Gynaecological Health Screening (Administered by General Practitioners)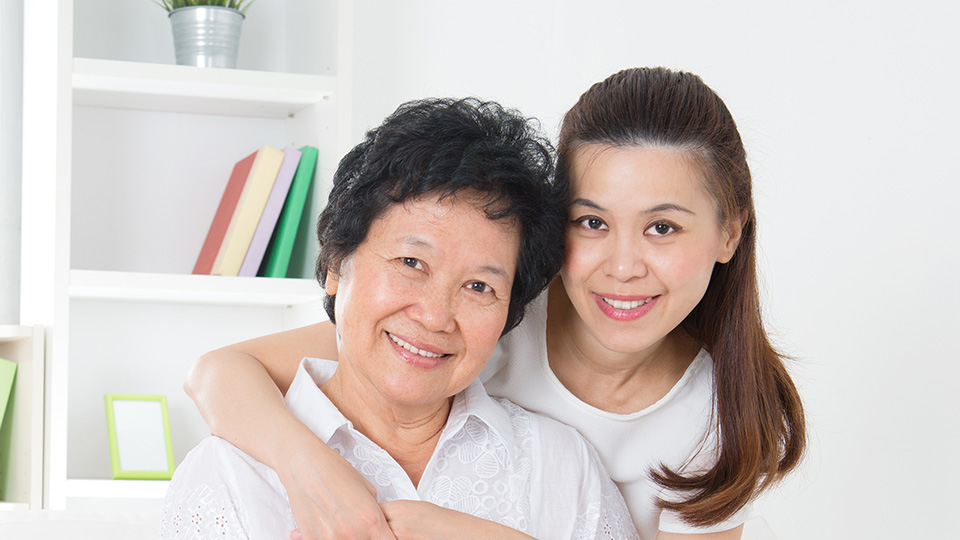 Urban women are mostly dual-career mothers who, on one hand, are under increasingly greater stress from work and, on the other hand, have to shoulder family responsibilities and take care of their children. Whenever they experience any physical discomfort, such as abnormal bleeding, abdominal pain or severe menstrual pain, they tend to attribute it to stress, while these signs could be symptoms of early gynecological diseases.
Ovarian cancer and cervical cancer are the 6th and 8th most common cancer among Hong Kong women respectively. Recent statistics have shown a tendency for early onset of cervical cancer, with females aged 20-70 years all being under the risk of the disease. The median age for ovarian cancer onset is 51 years old. Moreover, thyroid cancer, a disease that affects mostly women due to female hormones, ranks the 5th most common cancer among Hong Kong women.
Women are recommended to undergo gynecological check-up once a year or every other year as a preventive measure or for early diagnosis and treatment to ensure a higher chance of recovery.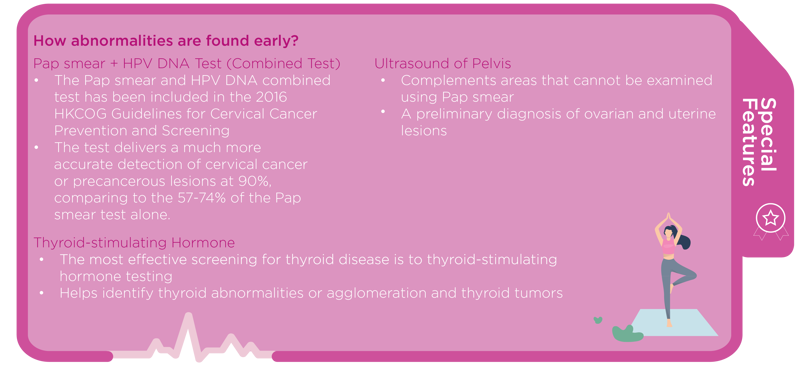 Product Details:
Detailed Medical History
Physical Examination
Blood Analysis
Thyroid Function
Cervical Screening
Pap Smear (A female doctor is available on request)

HPV DNA test
Pelvic Screening
Ultrasound of Pelvis (transabdominal)
Follow-up Consultation for Report Review
Designated Quality HealthCare Physical Check-up Centres:
Hong Kong Island:
Central / Admiralty / Sheung Wan / Taikoo Place / Causeway Bay / North Point
Kowloon:
Tsim Sha Tsui / Jordan / Mongkok / Kowloon Bay / Kwun Tong
New Territories & Outlying Islands:
Shatin / Tseung Kwan O / Tsing Yi / Tung Chung / Discovery Bay / Tuen Mun / Yuen Long
Recommended for
For women aged over 30
Terms & Conditions
Quality HealthCare will contact the customer within 2 working days after successful payment. Customers can also call physical check-up hotline at 8102 8068 for booking.
The physical check-up plan is available at designated Quality HealthCare Physical Check-up Centres.
Customers must present their identity cards and order confirmation letter

(printed or e-version)

on the appointment day.
Physical check-up plan is applicable to people aged 18 or above only.
Physical check

-

up plan is not applicable on Sunday

s

and Public Holidays.
The redemption will be valid for 6 months starting from the date of payment.
Neither amendment nor cancellation is allowed once the payment has been confirmed. Also, it is not transferable nor refundable.
All tests are not for the purpose of medical diagnosis or treatment.
In case of disputes, the decision of Quality HealthCare Medical Services Limited

 

shall be final.