Perimenopausal Health Screening
After the age of 45, the secretion of hormones in women naturally declines, which causes irregularities in their menstruation cycle. This condition can last for 10 years before actual menopause. Precursors will even appear in
the months and years before the start of menopause. This period is called perimenopause. Women in this period may experience huge pressures in their physical and psychological health. There may also be symptoms like flushing,
vaginal dryness, emotional instability, and even osteoporosis and cardiovascular diseases.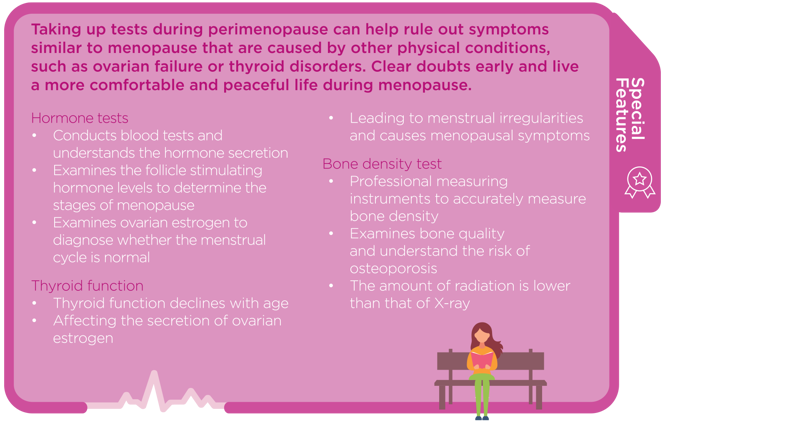 Product Details:
Detailed Medical History
Physical Examination
Blood Lipids
Total Cholesterol, HDL - Cholesterol, Direct LDL - Cholesterol, Total Cholesterol/ HDL-Cholesterol Ratio, Triglycerides
Hormone Screening
Follicle Stimulating Hormone, Total Estrogen
Thyroid Function
Bone Metabolism
Calcium, Phosphorus, Vitamin D
Osteoporosis Screening
Follow Up Consultation for Report Review
Designated Quality HealthCare Physical Check-up Centres:
Hong Kong Island:
Central / Admiralty / Sheung Wan / Taikoo Place / Causeway Bay / North Point
Kowloon:
Tsim Sha Tsui / Jordan / Mongkok / Kowloon Bay / Kwun Tong
New Territories & Outlying Islands:
Shatin / Tseung Kwan O / Tsing Yi / Tung Chung / Discovery Bay / Tuen Mun / Yuen Long
Recommended for
Women aged 45 or above
Terms & Conditions
Quality HealthCare will contact the customer within 2 working days after successful payment. Customers can also call physical check-up hotline at 8102 8068 for booking.
The check-up plan is available at designated Quality HealthCare Physical Check-up Centres.
Customers must present their identity cards and order confirmation letter (printed or e-version) on the appointment day.
Physical check-up plan is applicable to women aged 18 or above only.
Physical check-up plan is not applicable on Sundays and Public Holidays.
The redemption will be valid for 6 months starting from the date of payment.
Neither amendment nor cancellation is allowed once the payment has been confirmed. Also, it is not transferable nor refundable.
All tests are not for the purpose of medical diagnosis or treatment.
In case of disputes, the decision of Quality HealthCare Medical Services Limited shall be final.