With varied incubation period and symptoms, sexually transmitted diseases (STD) can be transmitted through sexual
contact or blood infection. Some STDs can show no symptoms in women. Taken the potential significant impacts into
account, the risks of having STDs must not be ignored. There are many types of STDs, including syphilis, gonorrhea, herpes, HIV and chlamydial urethritis. STDs does not only affect the sexual organs and the reproductive system and cause pain, but can also spread to other organs in the body and lead to complications. Therefore, if you suspect that you have contracted STDs, you should be decisive and seek medical attention as soon as possible. In general, the simple and easy examination procedures can be done by testing body secretions, blood or cell samples.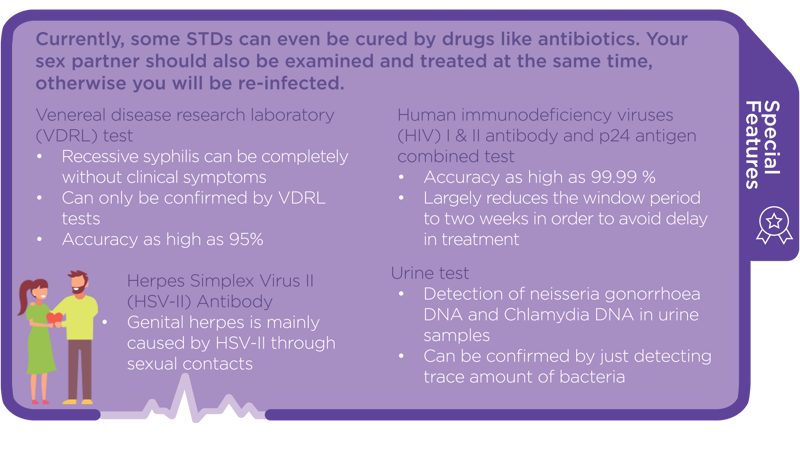 Product Details:
Detailed Medical History              
Physical Examination      
Blood Analysis   
VDRL/RPR, HSV Type II Antibody, HIV Combo, I, II, Ab & p24Ag
Urine Examination          
Gonorrhea DNA, Chlamydia DNA
Follow-up Consultation for Report Review 
Designated Quality HealthCare Physical Check-up Centres:
Hong Kong Island:
Central / Admiralty / Sheung Wan / Taikoo Place / Causeway Bay / North Point
Kowloon:
Tsim Sha Tsui / Jordan / Mongkok / Kowloon Bay / Kwun Tong
New Territories & Outlying Islands:
Shatin / Tseung Kwan O / Tsing Yi / Tung Chung / Discovery Bay / Tuen Mun / Yuen Long
Recommended for
Suitable for people who are sexually active
Terms & Conditions
Quality HealthCare will contact the customer within 2 working days after successful payment. Customers can also call physical check-up hotline at 8102 8068 for booking.
The check-up plan is available at designated Quality HealthCare Physical Check-up Centres.
Customers must present their identity cards and order confirmation letter (printed or e-version) on the appointment day.
Physical check-up plan is applicable to people aged 18 or above only.
Physical check-up plan is not applicable on Sundays and Public Holidays.
The redemption will be valid for 6 months starting from the date of payment.
Neither amendment nor cancellation is allowed once the payment has been confirmed. Also, it is not transferable nor refundable.
All tests are not for the purpose of medical diagnosis or treatment.
In case of disputes, the decision of Quality HealthCare Medical Services Limited shall be final.